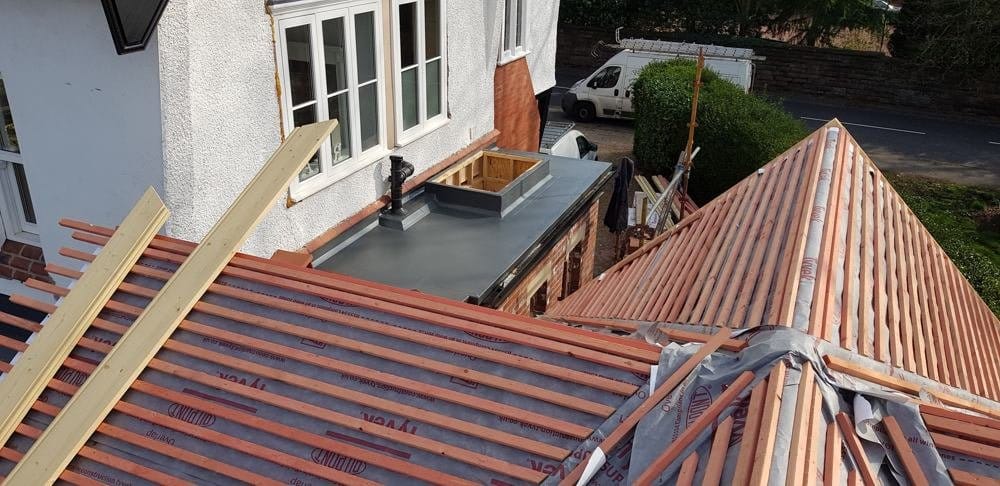 When constructing a new property or renovating an existing one, roofing is one of the most critical parts to consider. Not only does it provide protection against harsh weather elements, but it also adds aesthetic value to the building. In this blog, we will discuss a new build roofing project in Bramhall, Stockport, where we installed Marley Plain (Acme/Rosemary) tiles. The construction of this roof was quite intricate, with angled gable ends front and back on one side of the building, 4 valleys front and back (8 sides in total), 2 piked roofs, and a straight gable end that cut into a GRP flat roof that we were also installing on the property.
Tyvek Breathable Felt and Coloured Tile Battens
The first step in the installation process was to lay Tyvek breathable felt to the entire roof area. This felt is essential as it allows the roof to breathe while still protecting against moisture. Once the felt was in place, we fitted coloured tile battens to create a strong foundation for the Marley Plain tiles.
Code 4, 15″ Lead in the Valley Sections
One of the most crucial parts of any roofing project is the valley sections. These are the areas where two sections of the roof meet, and they are prone to water damage. To prevent this, we laid code 4, 15″ lead on a breathable felt base to ensure the valleys were watertight.
Installing the Marley Plain Tiled Roof
With the Tyvek breathable felt, coloured tile battens, and lead valley sections in place, we could begin installing the Marley Plain tiles. This process was quite tricky due to the complex design of the roof, including the angled gables and valley sections. However, with our team's expertise, we were able to cut the tiles to fit perfectly around the roof's various features.
Lead Soakers to Joint the Two Roofs Together
As mentioned earlier, there was a straight gable end that cut into a GRP flat roof we were also installing on the property. To ensure that the two roofs were watertight and seamless, we fitted lead soakers to joint them together.
Successful Completion of a Complex New Build Roofing Project
Roofing projects can be quite intricate, especially when dealing with complex designs such as the one we installed in Bramhall, Stockport. However, with the right team and expertise, the results can be outstanding. The Marley Plain tile installation we did provided both aesthetic value and excellent protection against weather elements, giving the property owners peace of mind.