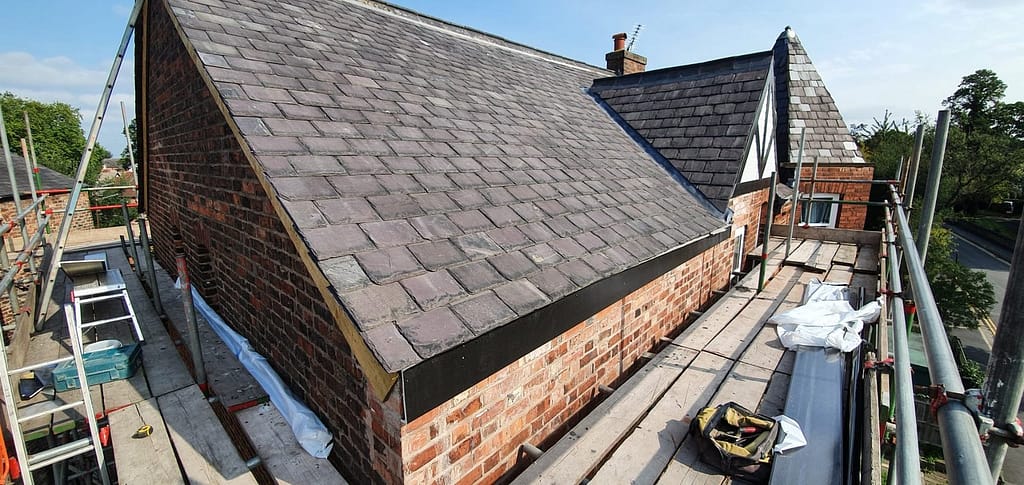 Are you considering replacing your slate roof? It's important to understand the process involved, from removing the old slates to adding new ones, to ensure a quality outcome. In this blog, we will take a closer look at a recent slate roof replacement in Urmston, Manchester. We'll cover the steps involved, including the removal of the old slates, replacement of broken ones, and the addition of lead to the valley sections and ridge at apexes.
Why Replace Your Slate Roof?
Slate roofs are known for their durability and longevity. However, over time, even the most robust roofs can suffer from wear and tear. The reasons for replacing a slate roof may include:
Aging slates
Broken or damaged slates
Leaks or water damage
Deteriorating flashing or leadwork
Poor insulation or energy efficiency
Whatever the reason, replacing your slate roof can improve the overall appearance and functionality of your home.
The Slate Roof Replacement Process
Step 1. Inspection and Assessment
Before replacing your slate roof, it's important to have a thorough inspection and assessment performed by a qualified roofing contractor. This will help identify any underlying issues that may need to be addressed before beginning the replacement process.
Step 2. Removal of Old Slates
The next step is to remove the old slates carefully. This requires a delicate touch, as slate can be brittle and easily damaged. The process involves removing the slates in sections, beginning at the top of the roof and working downwards.
Step 3. Replacement of Broken Slates
Once the old slates have been removed, the next step is to identify any broken or damaged slates that need to be replaced. These will be carefully removed and replaced with new slates of the same size and thickness.
Step 4. Re-Slating
With the broken slates replaced, the next step is to re-slate the entire roof. This involves laying new slates in place, ensuring they are evenly spaced and properly aligned. The slates are then secured in place using nails or hooks.
Step 5. Leadwork
Adding lead to the valley sections and ridge at apexes is a critical step in ensuring the roof is fully watertight. The lead is carefully cut and fitted into place, ensuring it overlaps the slates and is properly sealed.
6. Finishing Touches
The final step in the slate roof replacement process is to add finishing touches, such as ridge tiles and guttering. These will help improve the overall appearance and functionality of your new roof.
Protecting Your Home for Years to Come
Replacing a slate roof is a significant investment, but it can also be a wise one. By understanding the process involved, you can ensure a quality outcome that will protect your home for years to come.