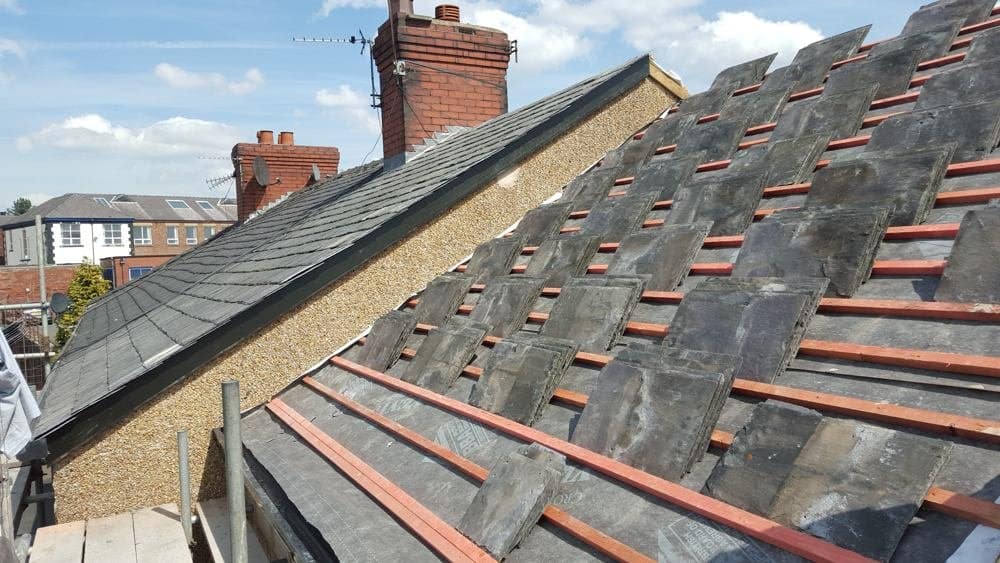 If you're looking for a comprehensive guide to slate reroofing, you've come to the right place. In this blog post, we'll take you through a recent project we undertook in Hyde, Tameside, and why a slate reroof might be the right solution for your roofing needs.
Step 1: Assessing the Property
Our client had an older terrace property that they had extended, almost doubling its footprint. The extension joined the existing roof at the rear but sat lower on the property's front elevation. This difference in elevation meant that we had to remove the original roof from the older property and the new extension to start the slate reroofing process.
Step 2: Laying the Felt and Battens
Once we had assessed the property and determined that a slate reroof was the right option, we started by laying felt and battens on both the front and back of the older property and the new extension. This ensured that the roof had the necessary support and protection from the elements.
Step 3: Installing the Slates
With the felt and battens in place, we were ready to install the slates. Our team carefully selected reclaimed slates that were a near-perfect match for the existing slates on the older property. This was important as we wanted the roof to look like it had always been this size, even though we had extended it.
Step 4: Ensuring the Roof is Watertight
Once we had installed the reclaimed slate, we focused on ensuring the roof was watertight. We installed new code 4 lead soakers and flashings to the apex chimney and soakers to the front gable end wall. This would prevent water from entering the property through the roof, ensuring that the property remained dry.
Step 5: Applying a Render Coat
Finally, we applied a render coat to cover down over the new code 4 lead soakers and flashings. This would ensure that they were hidden and that the roof had a clean and seamless finish.
Is a Slate Reroof the Right Option for You?
A slate reroof is an excellent option if you have an older property that you have extended, as it allows you to maintain the existing style of the property while making necessary changes. If you're considering a slate reroof for your property in Hyde, Tameside, don't hesitate to get in touch with us. We can help you determine if this is the right option for your roofing needs and provide you with a comprehensive quote.