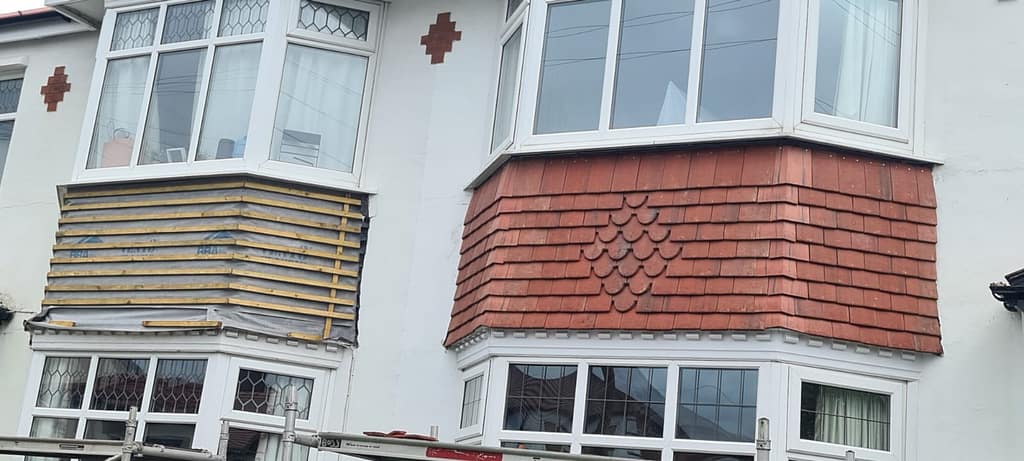 At DM Roofing, we are committed to providing high-quality roofing solutions for our clients in Manchester. Recently, we had the pleasure of completing a hanging tile project for neighbouring houses in the area. We replaced old, broken hanging tiles with new, stylish, and bright tiles that complemented the properties. The job was finished with a lead flashing apron to complete a watertight finish.
Why Choose DM Roofing?
At DM Roofing, we understand the importance of quality workmanship and customer satisfaction. With over a decade of experience in the roofing industry, we have the skills and knowledge to deliver the best possible results for our clients. Our team of expert roofers are highly trained and equipped with the latest tools and techniques to ensure that every job is completed to the highest standards.
Replacing Old Hanging Tiles with New, Stylish, and Bright Tiles
The hanging tiles on the neighbouring houses were old, broken, and in need of replacement. We carefully selected new tiles that were not only stylish and bright, but also able to withstand the harsh weather conditions in Manchester. We took great care to ensure that the new tiles complemented the existing architecture of the houses, fitting in seamlessly with the surrounding properties.
Completing the Job with a Watertight Finish
A watertight finish is crucial in preventing leaks, mold, and other issues that can arise from moisture getting into the building. We understand the importance of a watertight finish and took great care to ensure that all aspects of the job were completed to the highest standards. We finished the job with a lead flashing apron, which is a durable material that's resistant to corrosion and can be shaped to fit the contours of the roof. By installing it properly, we ensured that there were no gaps or vulnerabilities in the roof where water could seep in.
Choose DM Roofing for Your Roofing Needs
At DM Roofing, we take pride in providing high-quality roofing solutions that meet the needs of our clients. Whether it's a small repair or a major roofing project, we have the expertise and experience to get the job done right. Our goal is to exceed your expectations and provide you with a roof that's not only functional and protected from water damage, but also adds value to your property.
We at DM Roofing are thrilled to have had the opportunity to bring new life to neighbouring houses in Manchester with our hanging tile project. We are committed to providing the best possible roofing solutions for our clients and take great pride in our work. If you're in need of a roofing project in Manchester, choose DM Roofing. Contact us today to learn more about our services and to schedule a consultation.