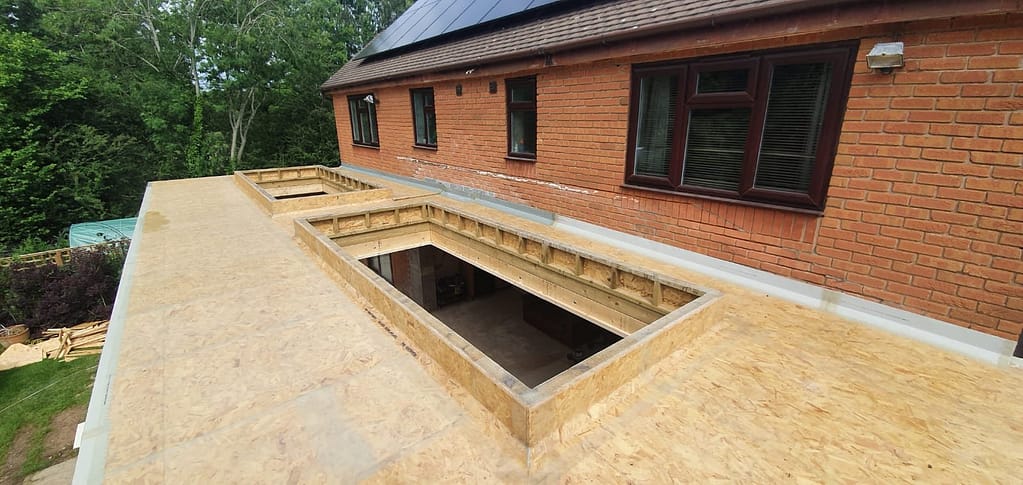 At DM Roofing, we have been undertaking GRP flat roofing systems for over 15 years in Stockport, and we take pride in providing our customers with top-quality workmanship and excellent customer service. In this blog post, we will showcase one of our recent projects – a large GRP extension roof in Stockport – and explain how we completed the job using a 3 layer, no laps GRP system.
Our GRP Extension Roof Project in Stockport
We recently completed a large GRP extension roof project in Stockport for one of our clients. The client had a flat roof extension that needed a new roofing system that was durable and be long-lasting. After consulting with the client and assessing the roof's condition, we decided to use a 3 layer, no laps GRP system.
First, we boarded the roof and cut out the boxes for the roof skylights. Then, we applied the GRP system in three layers, ensuring there were no laps or joins to prevent any potential leaks. The three layers consist of a resin layer, a reinforcement layer, and a topcoat layer. Once the GRP system was applied and cured, we dropped the windows in place and lead flashed the back wall for added protection.
Benefits of GRP Flat Roofing
GRP flat roofing has become increasingly popular over the years due to its many benefits, including:
Durability and strength: GRP is a highly durable and strong material that can withstand harsh weather conditions, foot traffic, and other external factors.
Longevity: A well-installed GRP roofing system can last for up to 50 years, making it a cost-effective investment in the long run.
Low maintenance: GRP roofs require minimal maintenance, which means you don't have to worry about costly repairs or replacement.
Get a No Obligation Quote Today
If you're looking for a roofer to complete your GRP flat roof in Stockport, look no further than DM Roofing. We have the skills, knowledge, and experience to undertake any GRP flat roof, no matter how big or small. We offer a no obligation quote for any work that's needed, so give us a call or email us today to find out more and how we can help you protect your home for years to come.